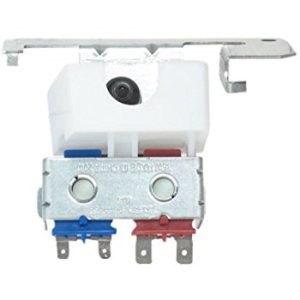 If your refrigerator water dispenser recently started leaking or dripping water slowly then you might have an issue with water valve.  Some refrigerators use a dual water valve like the WR57X10032 water valve one for the ice maker and one for the water dispenser.  Therefore it is possible that the water dispenser is working fine but the ice maker is not receiving water or vice versa.
Fortunately, the latest water valves have a very simple installation a new style push on fittings for water outlet line and a screw on compression for the water inlet fitting. These new valves cost under $40 and can be replaced in a few minutes.
Depending on your refrigerator model, we recommend the WR57X10032 water valve which replaces the older 880070, AH304374, EA304374, PS304374, WR57X10040, WR57X10064. This is a GE Factory Part but GE brands include General Electric, Hotpoint, RCA as well as various appliance models for Sears / Kenmore. Simply enter the model of your refrigerator in the search tool at the top of the Amazon page to ensure it is the correct water valve for your model.
A few happy customers…
"Water stopped working on my refrigerator so I replaced the water valve. This fits just right and appears to be good quality. It was challenging to get to the back of the fridge remove the motor cover but the install of the valve was easy. "
"I figured out the old valve was leaking so I found the part I needed on Amazon. I had the part in a day, watched a couple YouTube Videos and had it done in no time – super simple job. It took longer to roll refrigerator out and take the cover off then it took to replace the valve."
"Our fridge had issues with weak water dispenser flow for months. I thought it was the freezing water line but we began hearing strange noises when dispensing water and ice maker was filling. Since it was just $35 we decided to replace the water valve. Luckily, it is a very easy process and it did solve both problems with one stroke."
Tell us if this worked for you below so we can help each other solve these frustrating refrigerator issues!