Recently my water dispenser simply quit working on my General Electric side-by-side refrigerator. We've had the GE refrigerator for roughly 5 years and never had this issue.  The ice maker was still making ice so I knew it was still receiving water.  The  ice dispenser worked fine when tried to dispense water, I heard a click and the light came on so I assumed the electronics in the dispenser control panel were ok.
I spent several hours reading forums and testing various theories.  I eventually determined that the water line inside the door was frozen.  You see, the water line comes in from the wall to under the refrigerator and splits.  One line goes up to the ice maker.  The other coils around in a water line behind the vegetable tray to cool the water then out the back, under the refrigerator across the bottom of the front then up the inside left of the freezer door by the hinge.   Ultimately the insulation inside the door quits insulating the water line and it freezes near dispenser control panel.
So there you have it, your problem is likely a frozen water line.  Now how do you fix it?  Many users in the forums suggested replacing the door for $500 or adding their own insulation to the door.  Other users suggest temporary fixes such as threading a weed-eater trimmer line through the water line.  When the line freezes simple pull the trimmer line and clean it out.
Fortunately I found a simple and inexpensive permanent solution.   GE apparently released a simple water dispenser tube heater which easily connects to the dispenser control panel and heats the water line just enough to keep it from freezing. You can purchase it from RepairClinic.com for $45. They provide great support and a 365 return policy.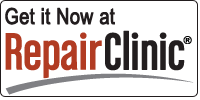 Also Replace Your Water Filter!
While you're fixing your water dispenser it is a good time to replace your water filter. The manufacturer suggests replacing it every 6 months but I find that every year or so is fine. Of course most people don't ever replace it. You'll find that the water will taste cleaner and dispense much faster with a new filter!
This GE MWF Water the improved version of the GWF model, providing cleaner, healthier, and better-tasting drinking water at home. By reducing contaminants like mercury, toxaphene, p-dichlorobenzene, carbofuran, alachlor, benzene, lead, cryptosporidium, and giardia, the MWF is a safe and affordable way to contribute to a healthy lifestyle.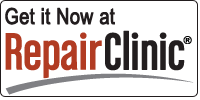 Have a question about your GE Water Dispenser Issue?  Let us know below and we will help!