Well, mine was! Apparently it is a fairly common problem for the water dispenser line in the GE side by side refrigerators to freeze. It seems there is an issue with the insulation inside the door taking on too much moisture so it doesn't insulate the line well enough to keep it from freezing.
If you need to check if your line is frozen, simply remove the kick plate off the bottom of the fridge then unhook the water line just under the left door. Simply pull the two blue tabs apart to unhook the line. Place a cup under the line going towards the back of the refrigerator then activate the water dispenser. If water flows then the water line is frozen inside the door. Hook up the water line again and replace the kick plate.
To thaw your line, use a hair dryer on high heat pointed the water line and back (outside) of the water dispenser control panel for about 15 minutes. That thawed it for me but of course it'll just freeze again unless you have some way to keep it from freezing.
The Solution – Water Line Heater
Fortunately GE has released a water line heater that installs in about 15 minutes and fixes the issue permanently.  Sure beats paying $250 for a serviceman to do it!  Purchase the GE refrigerator water line heating element from RepairClinic  for about $45.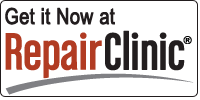 Also Replace Your Water Filter!
While you're fixing your water dispenser it is a good time to replace your water filter. The manufacturer suggests replacing it every 6 months but I find that every year or so is fine. Of course most people don't ever replace it. You'll find that the water will taste cleaner and dispense much faster with a new filter!
This GE MWF Water the improved version of the GWF model, providing cleaner, healthier, and better-tasting drinking water at home. By reducing contaminants like mercury, toxaphene, p-dichlorobenzene, carbofuran, alachlor, benzene, lead, cryptosporidium, and giardia, the MWF is a safe and affordable way to contribute to a healthy lifestyle.